Cables are one of the most important parts of a system in different industrial applications. It's essential that work-class ROV operators purchase these cables from a high-quality cable manufacturer.
While purchasing them from a renowned manufacturer is the first step towards extending the lifetime of your cables, it's not enough on its own.
10 KEY THINGS TO CONSIDER
IN ORDER TO EXTEND THE LIFETIME OF YOUR CABLE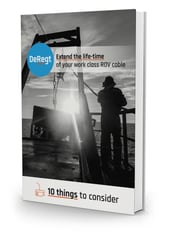 Minimum downtime, maximum performance for your work-class ROVs
To extend the lifetime of your purchased cable, keep downtime to a minimum and get maximum performance efficiency, it's vital to follow some basic cable-care and maintenance guidelines.
Extend the lifetime of your cable by considering the following 10 tips