The global trend toward a more sustainable and socially responsible world has accelerated the transition to renewable energy in the ROV industry. Though some smaller electric ROVs have become more commonplace in recent years, larger work-class ROVs have historically relied on hydraulics to power their operations. As a result of the drive for sustainability, however, OEMs are beginning to develop fully electric work-class ROVs, or eWROVs.
In addition to lowering their environmental impact, electric ROV systems, such as thrusters and manipulators, can ultimately provide other benefits, including better accuracy, reliability, and cost savings. And in the process of transitioning to these technologies, DeRegt Cables can work alongside eWROV manufacturers to co-create new subsea cables that will meet their specifications and ensure successful operations.
Differences between electric ROVs and standard ROVs
Electric ROVs are proving to be significantly more environmentally friendly than equivalent hydraulic systems. As well as being more fuel efficient, electric systems weigh less, use limited or non oil, and are inherently more reliable with significantly fewer components that could break down. And because they require less frequent maintenance, costly downtime is minimized.
However, for larger, heavier work-class eWROVs operating at great depth, re-development of proven AC-powered hydraulic components into DC-powered electric components will expose the cables to greater amounts of heat. This factor must be taken into consideration in the cable design, while at the same time further reducing the overall diameter of the cable to minimize weight.
The reliability of an eWROV – and of its cables – is essential because if the cable breaks or malfunctions while working at great pressure 3,000 meters below sea level, it creates serious problems. For this reason, when designing new electric components to replace hydraulic ones, they need extensive testing under similar pressures to make sure the same tasks can be accomplished without water leakages.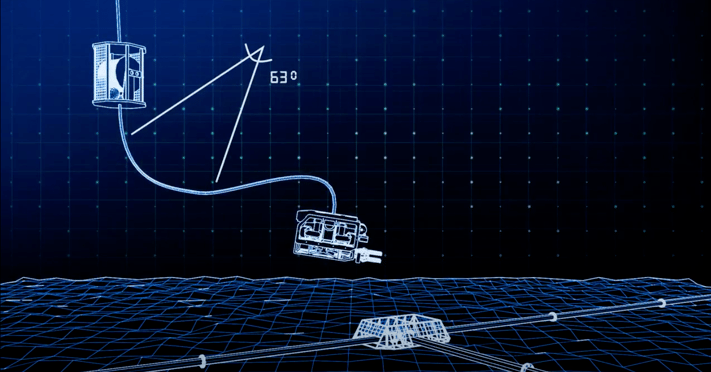 The Electrical ROV trend around the world
The energy transition echoes throughout the supply chain and will skyrocket the demand for metals to be used in wind turbines and electric car batteries. Most of these rare materials, such as nickel, cobalt, and copper, come from land-based mines. To avoid political conflicts that could shut down supply chains, many have recognized the need to explore other sources.
The result is that ROV companies are now developing heavy-duty deep-sea mining equipment that can extract polymetallic nodules from several kilometers below the ocean surface. This new equipment requires eWROV cable designs that can reliably transmit large amounts of power to ever deeper locations.
In the quest for more renewable energy, the near-shore areas, such as the North Sea, are filling up with wind farms, forcing energy producers to site them further out. Cables designed for eWROVs farther from the coast must be more reliable and last longer, which means they will have less environmental impact.
Electrical ROVs and USVs
As we've seen, the overall thrust of the ROV market is towards more sustainable and environmentally friendly operations by transitioning to electric systems. Another path the industry is taking toward sustainability is using smaller USVs (Uncrewed Surface Vessels) and AUVs (Autonomous Underwater Vehicles) for applications such as hydrographic surveys and pipeline inspections.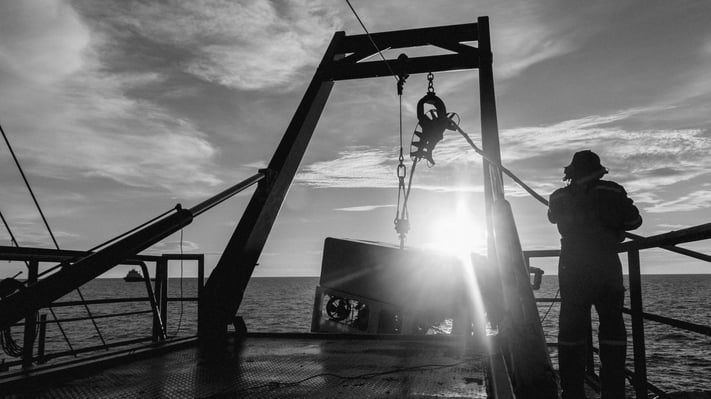 These tasks have traditionally been carried out using human pilots and engineers living on large offshore vessels for several weeks, which is expensive, requires more energy, and carries much greater risk.
For this reason, more OEMs are designing USVs that provide power and communications via cables to ROVs, with both being controlled by human pilots onshore. The subsea cables for these missions require expert development to ensure optimal operation.

Read more in our blog about choosing the best cables for USVs working with ROVs for even more sustainable, reliable, and cost-effective missions.
DeRegt Cables for electric work-class ROVs
With more than 20 years of experience developing ROV cables for the military and other sectors, DeRegt Cables can help design the perfect subsea cable for your eWROV application. By keeping a close eye on developments in electric ROV components and new materials, we can implement them directly in custom solutions for your specific challenges.
Choosing a cable supplier that can think along with you as a strategic partner, ensures that you will receive the cable that best suits your application. At DeRegt Cables, we can solve challenges together, each thinking from his own expertise. The result is co-creation: together creating the final solution that ensures that your eWROV system operates optimally.
Preferably at the very early stages of your project, free of charge, our cable design engineers can help you look at the consequences for your cable design when developing your eWROVs. Contact us here.
In our Webinar about co-creation in the ROV market, you can hear testimonials from other professionals about the many benefits of involving cable specialists in the early stages of a cable project.