The drive for more fuel-efficient, sustainable solutions, along with technological improvements, is creating a growing demand for unmanned marine vehicles in many applications. In addition to the more common remotely operated vehicles (ROVs), many of these missions are being carried out by uncrewed surface vehicles (USVs) or autonomous underwater vehicles (AUVs). Often, an ROV works in conjunction with a USV.
USVs and AUVs come in a variety of sizes and form factors and they may be remotely controlled by human pilots or they may be partly or fully autonomous. And while some smaller, battery or solar-powered vehicles don't require cables, many applications depend on marine cables to supply power, data, and controls, and/or to tether and lift the vehicle to a support boat.
The trend of USVs within the ROV Market
More and more companies operating in the subsea space have begun to incorporate ROVs in combination with USVs. They can be found performing surveys for the oil & gas industry, inspection and light repairs in offshore wind farm projects and other renewable energy projects (wave, tidal & floating solar), hydrographic research, and military applications.
In one type of arrangement, a small USV remains at the surface, while tending a cabled ROV below to perform inspections, surveys, or even light repairs. The USV, itself controlled by a human operator from shore via internet or satellite communications, can provide power and data communications to the ROV.
Another configuration might combine ROVs, USVs, and AUVs. The AUVs can perform missions autonomously, such as video inspection of a pipeline or communications cable. Then, to recharge and upload data, the AUV will periodically visit an underwater ROV docking station connected to the surface by an umbilical cable.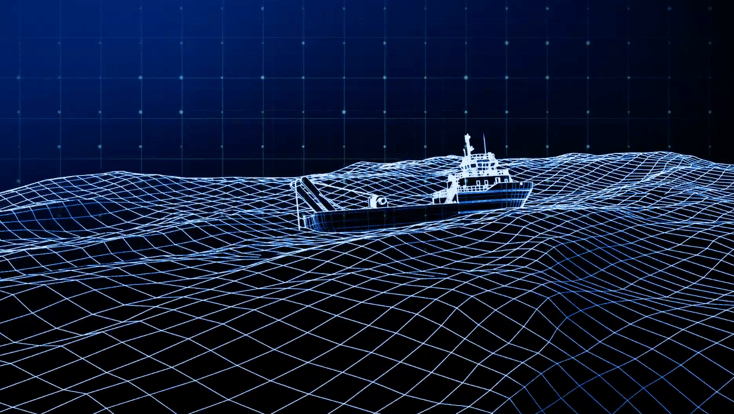 The crucial importance of reliability for USV cables
Because they are launched and operated from smaller uncrewed vehicles, the cables for these newer types of vehicles must be lighter and smaller than traditional ROV cables. And because they are operated remotely, the cables must be designed for maximum reliability.
While the use of USVs and AUVs is a fairly new trend in commercial and research applications, their use has been ongoing in the defense markets. For over two decades, DeRegt has been developing these types of cables for military operations, meeting the strictest specifications with in-house testing. Our knowledge and experience developing highly reliable Mil-standard cables can prove valuable when it comes to designing specialized cables for non-military subsea markets.
The future of ROVs: Unmanned subsea projects
Operating large vessels offshore for several weeks is not only very expensive, but it consumes large amounts of energy, uses more raw materials, and generates more waste. The market for these smaller subsea vessels is huge, driven by the fact that they are inherently more fuel efficient than large vessels.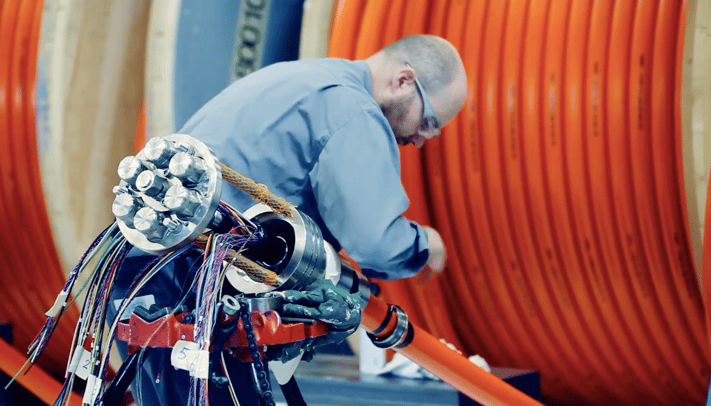 At the same time, companies have learned from the COVID-19 pandemic that ships housing tens or hundreds of people on board can become stuck offshore for months if just one person becomes sick. Altering the operational design to keep humans onshore makes things much less complicated, lowers risk and reduces costs.
For now, the trend is focused on using small uncrewed vehicles for lighter projects, such as surveys, inspections, and light repairs in shallower waters. As their benefits and capabilities expand, missions in deeper waters using heavier equipment will become more commonplace.
Unmanned ROV projects & electrical ROVs
In addition to cost and risk reduction, the market is looking to make subsea operations more sustainable and environmentally friendly.
The trend towards operating ROVs from onshore through USVs dovetails with the trend towards electrifying ROVs, which also increases sustainability and lowers risk and costs. Electric ROVs are lighter, more reliable, and require less downtime than traditional hydraulic ROVs.

Read more in our blog about electric ROVs and the new types of cables that DeRegt can supply.
Facilitate co-creation of USV cables
The market for subsea operations is shifting from large seagoing vessels to much smaller, more fuel-efficient vessels and one-third of the personnel at much reduced operational risk. Companies looking to develop new USVs, AUVs, and ROVs for these types of projects need to consider the very different types of cables needed to optimize production.
The best way to ensure that the power & data requirements, mechanical characteristics, and other cable specifications are met is to work with your cable supplier beginning in the very early days of a project. In this way, you can together facilitate the co-creation of a component that meets your requirements at the best price, using the most efficient production method with the lowest lead time.
Preferably at the very early stages of your project, free of charge, I, together with our cable design engineers can help you look at the consequences for your cable design when developing your subsea cables. Contact us here.

In our Ultimate ROV Guide, you can read everything (and more) there is to know about ROVs and designing ROV Cables. Download your copy here and discover how you make your ROV project a success: