All change at DeRegt! Following a period of profound organisational transformation for DeRegt, we have now appointed a new managing director. His name is Daniël Ruiter and we had the pleasure of asking him SIX QUESTIONS below. Find out more about our new leader below.
What was it about DeRegt that made you want to get on board?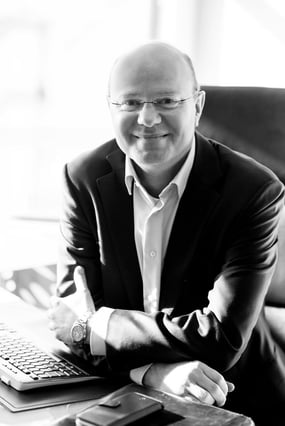 My forte is in technical niche companies that are international. I like that DeRegt is part of the larger Sercel group, which brings excellent opportunities. It is a highly professional background and setting.

I also get energised by the enthusiasm of the people, and the quality of the product. The idea of leading DeRegt through its next phase of growth appealed to me a great deal, and I am thrilled to be on board.

Can you tell me a bit about your career before you started at DeRegt?
My background is actually in chemical engineering. I'm a process engineer by trade. As a graduate, my first job was at an EPC contracting firm in oil and gas. The company formed part of a large multinational group called Stork. Quite soon after I joined, I was promoted to leadership positions. I stayed with them for 16 years, while changing role every two to three years.
Following my initial start in EPC contracting, I moved into Aerospace. This was then followed by Materials Technology. I progressed to Director roles for Stork in the US and in the Netherlands for different sites and plants.
Following my 16 years at the same company, I made the move to Halma, which is based in the UK. I became MD for one of their businesses in the Netherlands, where I stayed on for 8 years. Then it felt like the time had come for a new challenge. To expand my horizons.
This is when I heard about the position at DeRegt and my interest was immediately piqued.
Have there been any surprises since you've joined?
I hadn't quite realised the extent of the technical complexity of the product. It requires an enormous amount of expertise, knowledge and skills to build a cable of the quality you expect from DeRegt. You have to think the whole thing through very carefully if you want to do it well.
What I like about the business is that it is a group of very enthusiastic professionals. They truly love the product. They get enthusiastic about the customer need, about the challenges the product will face. You can tell that they take real pride in the exceptional level of performance DeRegt cables are able to offer, in extreme environments.
How do you see DeRegt's current position in the market, and where would you like it to be in five years time?
DeRegt is still developing from a largely seismic base to a more diversified base. We now have four sectors - Oil & Energy, Seismic, ROV and Defense - instead of one. What I would like to see is that we expand these markets and then perhaps also add a fifth market. I would like to see all those key markets grow to a much higher level. Since three of them are also oil-dependent I would like a fifth market added, outside gas and oil. Of course each of those three are strongly differentiated from each other, but in terms of macro-economics they are linked.
Are there any particular challenges you would like to address with De Regt? Are there any particular opportunities you would like to take even more advantage of?
I think that the primary challenge is to grow powerfully and deeply in all four markets. To invest intelligently in all four at the same time. That is quite a challenge. The opportunity is to outperform and exceed the customer experience; to surprise customers with both cable performance and service experience that exceeds their expectations.
Our objective is to get customers to interact with us, so we in turn can create the perfect cable for them. Together, we excavate their specific needs and then try to exceed their expectations. We can help them outperform by working together with them. That is a great opportunity for us and for them.
That is what excites our people, to make those really special cables. And it excites our customers. We see that come back in customer surveys as well. DeRegt offers them something better.

Do you have any personal connection to the main working environment of our products; the sea?
I'm an avid sailor. From the smallest lakes to the widest oceans. I will sail boats of any size, as long as they have a sail. I started off with ten-footers but have also sailed boats of ten times that. It certainly gives you a respect for the conditions those cables have to endure.