Space is always scarce on board ships and submarines in particular, which means that the smaller Sonar or ROV systems can be, the better. A tailor-made cable with a small diameter and bend radius helps keep the winch as small as possible, reducing the overall footprint of the system. A logical step you can take to reduce system size is opting for a flexible termination for towed arrays, with the same bend radius as the cable, as this allows the entire rig, including both the cable and the array, to be rolled up on the same winch.
Due to the limited space available on Unmanned Surface Vessels (USVs), systems with a small footprint are essential for Anti-Submarine Warfare (ASW). DeRegt specializes in developing cables for towed sonars and towed arrays for ASW applications for USVs and can help you develop a suitable system for your ASW USVs.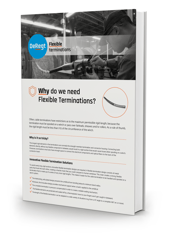 Why do we need Flexible Terminations?
Often, cable terminations have restrictions as to the maximum permissible rigid length, because the termination must be spooled on a winch or pass over fairleads, sheaves and/or rollers. As a rule of thumb, the rigid length must be less than 1/12 of the circumference of the winch.
Read on. We'll give you 5 solid reasons.